Adding an ATM to your small business or storefront can increase your recurring monthly revenue while providing new convenience to your existing customers.
While all ATMs serve the same general purpose, you can quickly become overwhelmed with the variety of choices once you begin your research. To help first-time ATM buyers, we've put together this guide detailing the best ATMs for small businesses to help you make an informed decision.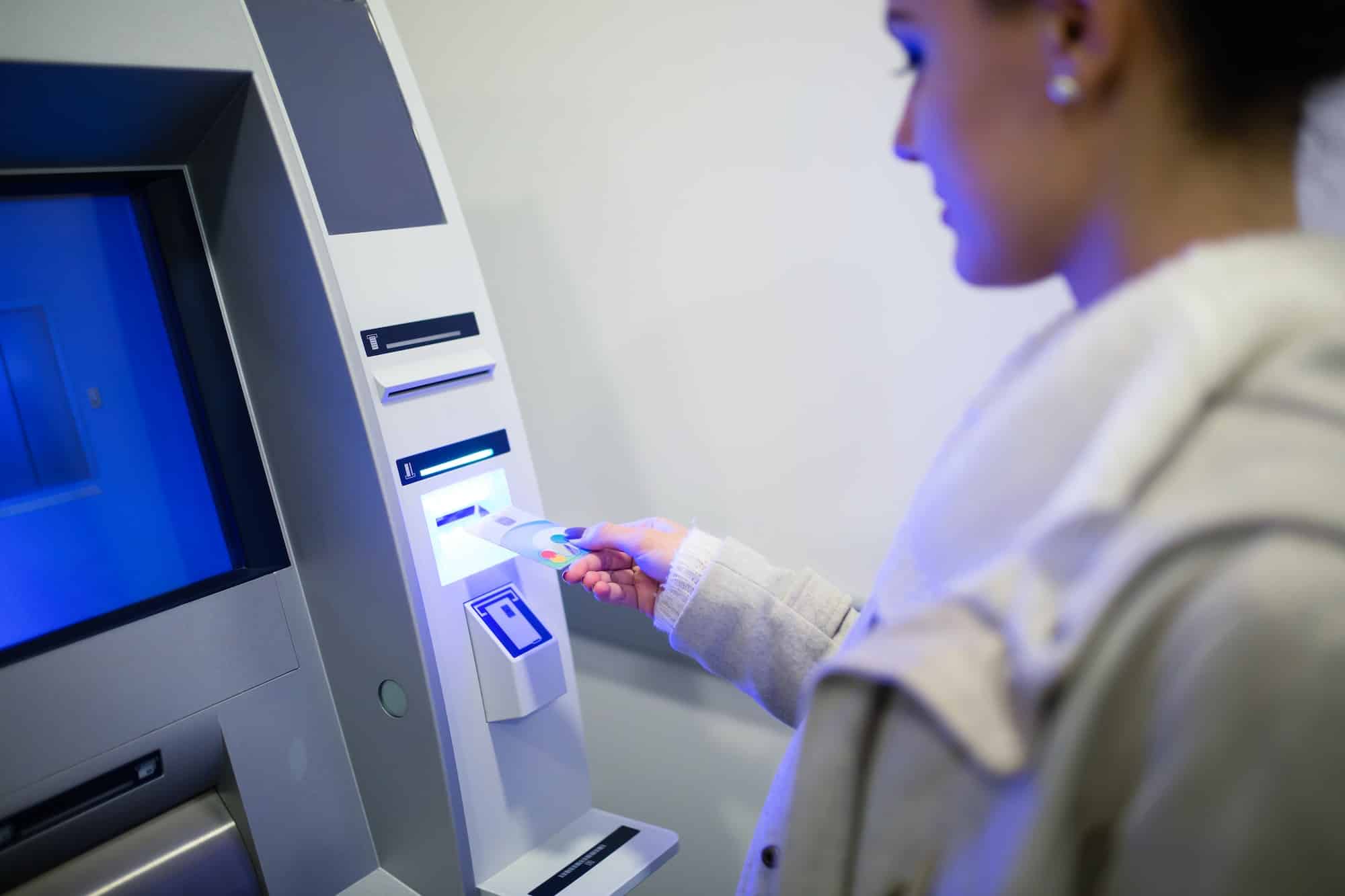 Factors To Consider When Choosing An ATM For Your Small Business
It's important to consider factors like price, security features, interface usability, cash capacity, and the manufacturer's brand reputation when considering ATM options.
Cost Efficiency
Cost efficiency is a crucial factor to consider when choosing the right ATM for your small business. When starting an ATM business, you want to minimize overhead costs so that you can get the best return on your investment.
For example, businesses that cater to high foot traffic should look for ATMs with faster transaction speeds and robust security measures – this will help reduce potential downtime and keep customer satisfaction at its peak.
Additionally, investing in a reputable brand known for its durable machines may save money on repairs and replacements compared to cheaper alternatives.
Security Features
One of the most crucial factors to consider when selecting an ATM for your small business is the security features it provides. These features protect both customers and business owners from fraudulent activities and ensure smooth and secure transactions.
For instance, having a reliable video surveillance system in place can deter potential criminals from targeting your ATM while also providing valuable footage if any incidents occur.
Installing a keypad shield on the device is another way to help maintain customer privacy by preventing others from seeing their entered PINs during transactions. Even though it's low-tech, it's still a critical step toward fraud prevention.
Ensuring these safety precautions are taken builds trust with customers while maintaining the financial security of both them and your small business.
User-friendly Interface
A user-friendly interface is essential when selecting an ATM for your small business, as it directly impacts the overall customer experience. A well-designed and easily navigable user interface ensures that customers can quickly and effortlessly complete their transactions, thus reducing wait times and increasing satisfaction.
For example, ATMs that display large fonts with high-contrast colors can cater to users with visual impairments, while touchscreens with easy-to-understand icons simplify interactions for those who may not be tech-savvy or familiar with banking processes.
Availability Of Cash
Having a consistent supply of cash available in an ATM is critical to ensuring that customers can easily access their funds. When choosing an ATM for your business, it's important to consider your expected cash replacement frequency.
Some ATM providers offer more frequent replenishment schedules to ensure that your machine always has enough cash on hand.
It's also important to note that small business owners should clearly understand their daily cash flow requirements when operating an ATM. Withdrawing more money at one time can help minimize fees charged by the bank or processor while helping ensure there are sufficient funds available throughout the day.
Plan accordingly and avoid overloading machines beyond capacity limits, as this could result in operational issues affecting your bottom-line revenue generation strategy.
Brand Reputation
When researching ATM solutions for your small business, it's important to consider the brand reputation of potential service providers. A company with a good reputation is more likely to provide excellent customer satisfaction and reliable technical support when needed.
Before making a decision, check online reviews and ratings, as well as industry associations such as BBB (Better Business Bureau), to determine the provider's trustworthiness.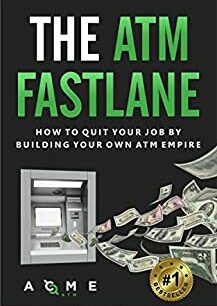 Get A Free Digital Copy Of Our Book, The ATM Fastlane
Learn how to quit your job by building your own ATM empire with a free copy of our book.
Top 5 ATMs For Small Businesses
If you want to skip the context and jump right to the products, we've included the product list below. You can keep scrolling to learn more about each product.
Nautilus Hyosung Halo II
Efficient and Reliable Cash Transactions for Retailers.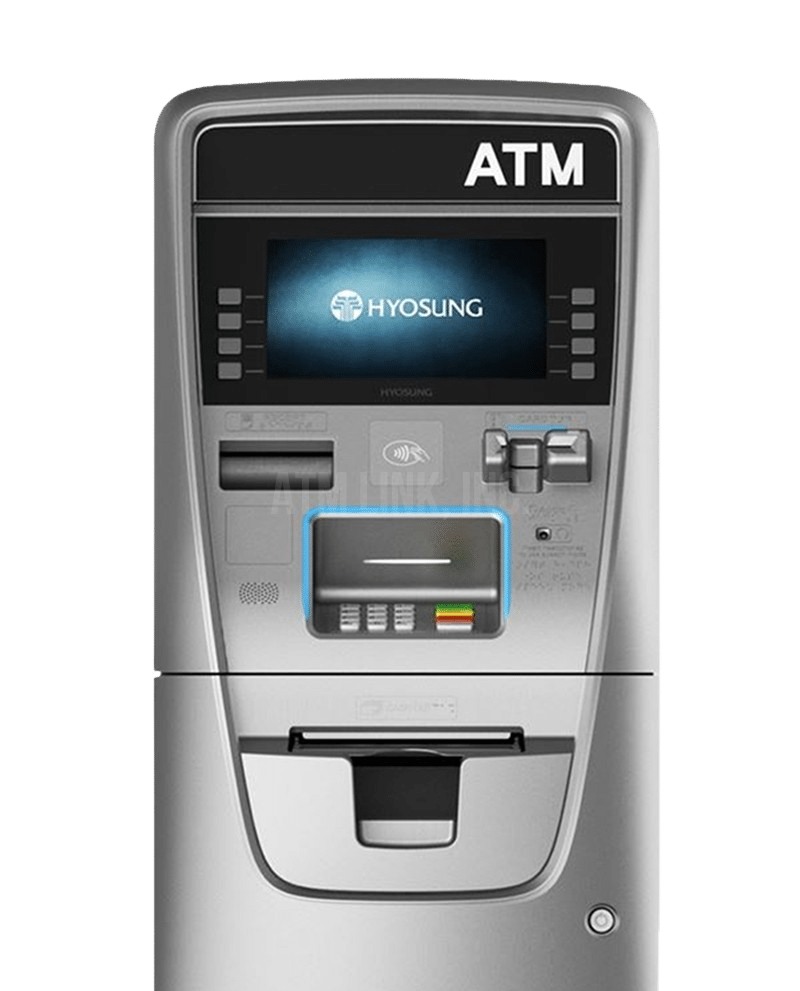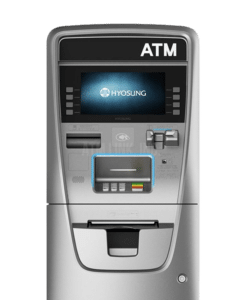 The Nautilus Hyosung Halo II is a top-of-the-line ATM designed to accommodate various locations, from small convenience stores to high-end retail spaces.
One of the standout features of this machine is its eye-catching customizable color LED lighting around the keypad, enticing more users and driving revenue for your business.
The user-friendly interface showcases a bright 10.1-inch LCD screen with infrared touch function keys and supports both 56K Dial-Up & TCP/IP with SSL connections – all contributing to why it's our No. 1 pick on this list.
Sleek and modern design
Multiple cash dispensing options for flexibility
Fast transaction processing speed
Large 10.1-inch color touchscreen display
Secure EMV card reader technology
Reliable performance with low maintenance requirements
The reliability and adaptability provided by the Halo II are unparalleled in today's market. With a standard EMV card reader, electronic lock, and upgradable cash dispensers ranging from 1,000 notes to an impressive 4K CDU capacity, this machine ensures maximum uptime while meeting diverse customer needs.
The Nautilus Hyosung Halo II offers an innovative design combined with industry-leading reliability that can boost any business's profitability through additional transactions. Its well-rounded set of features tailored to meet location specifications contributes significantly to why we have chosen it as our top-ranked ATM for small businesses among competing options available in the market today.
Nautilus Hyosung Halo II ATM Highlights
Secure and reliable: Nautilus Hyosung Halo II provides top-notch security features that ensure the safety of your transactions.
User-friendly interface: With a sleek design and easy-to-use interface, this ATM is perfect for both experienced and first-time users alike.
Fast processing speeds: The MX-2600SE model guarantees lightning-fast processing speeds, making it ideal for high-demand locations.
Multiple denomination dispensing: The machine can dispense multiple denominations of cash, adding convenience to your transactions.
Low maintenance requirements: This ATM requires minimal upkeep thanks to its durable build quality and advanced technology.
Customizable options available: You can easily customize the settings on your Nautilus Hyosung Halo II to suit your specific needs and preferences.
Nautilus Hyosung Halo II ATM Features
The Nautilus Hyosung Halo II is a high-end ATM packed with advanced features to enhance your banking experience.
With Ocean ATM processing required, you can enjoy faster and more secure transactions that meet the latest industry standards.
The 10.1″ color TFT LCD screen ensures a clear and vibrant display of all transaction details, keeping you informed every step of the way.
Boasting a standard 1,000-note cassette that's upgradable to a whopping 4K CDU, this ATM provides ample space for all your cash dispensing needs.
For added security, an electronic lock is included as standard, while the EMV card reader ensures safe and convenient processing of debit and credit card payments.
Pros
Faster transaction processing with Ocean ATM technology
Easy-to-read 10.1″ color screen for a smooth user experience
More cash storage capacity with the option to upgrade cassette to 4K CDU
Enhanced security features, including electronic lock and EMV card reader
Cons
Limited note capacity for businesses with high transaction volume.
Requires Ocean ATM processing, limiting compatibility with certain financial institutions.
May be more expensive than other ATMs on the market.
Genmega 2500
Efficient and Secure Cash Withdrawal Solution for Any Business.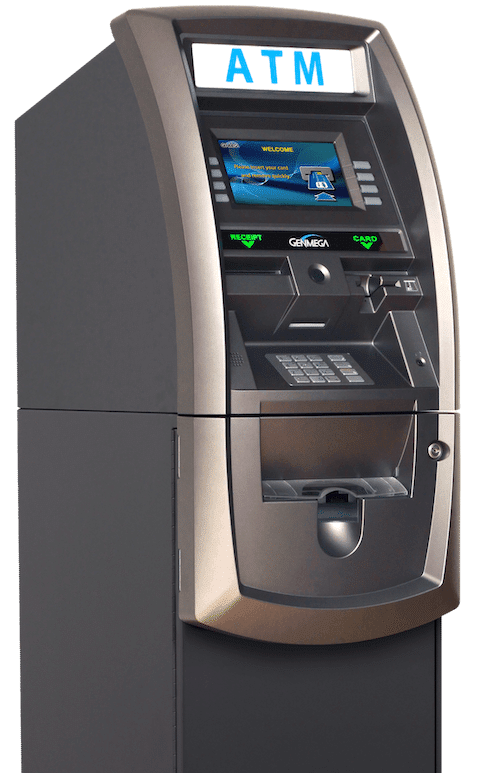 The Genmega G2500 Series ATM rightfully earns the No. 2 spot on our list due to its impressive feature set tailored for retail settings.
Boasting an 8-inch color LCD screen, this ATM machine provides a user-friendly experience that caters to both customers and business owners. The EMV card reader ensures secure transactions, while the electronic lock and 1,000-note cassette offer improved security and convenience in cash handling.
Reliable and durable design for long-lasting use
Compact size that fits in small spaces
Multiple cash dispensing options to meet various customer needs
User-friendly interface for easy operation and maintenance
Highly secure with advanced fraud prevention technology
Real-time monitoring and reporting for efficient management of cash flow.
What sets the Genmega G2500 apart from its competitors is its ability to create a seamless customer experience with its intuitive interface and design choices. In addition, the comprehensive content through useful resources such as links to multiple sellers helps users make well-informed decisions when purchasing an ATM of their own.
Genmega 2500 Highlights
The Genmega G2500 Series ATM Machine is ideal for stores, retailers, and other small businesses looking to provide a secure, reliable, and user-friendly cash withdrawal experience.
Featuring an 8-inch color LCD screen, EMV card reader, electronic lock, and 1,000 note cassette capacity – this ATM is perfect for any organization that needs to process a large number of transactions rapidly.
Reliable and durable: the Genmega 2500 is built to last, with a sturdy weight of 206 pounds.
Convenient size: despite its toughness, it won't take up too much space at 22.3 x 15.8 x 56.3 inches.
Easy to use: customers have given it high ratings for usability.
Versatile: this ATM can be used for various purposes and by different business types.
Trustworthy manufacturer: Empire ATM Group has a solid reputation in the industry.
Future-proof technology: as it was first released in late 2015, you can expect the technology inside to be relevant and current.
Genmega 2500 Features
8inch Color LCD Screen: The large and vibrant color screen on the Genmega 2500 ATM Machine not only makes it easy for customers to navigate through various transactions but also attracts more attention and usage.
EMV Card Reader: This ATM is equipped with the latest EMV card reader technology, giving customers additional security when withdrawing cash.
Electronic Lock: The electronic lock feature on the Genmega 2500 ensures that any cash stored inside remains safe and secure at all times. No unauthorized person can gain access to it without proper authorization, giving you peace of mind.
1,000 Note Cassette: With a 1,000 note cassette capacity on the G2500 series ATM machine, there's no need for frequent cash replenishment, saving both time and money. Additionally, less maintenance means less downtime, which results in higher profits for your business.
Excellent choice for retail settings: With its numerous features like the ones mentioned above, as well as multiple language support options available, the G2500 Series ATM Machine is an ideal fit for retail settings where customer demand varies significantly throughout the day/night.
Pros
Convenient cash withdrawals with 24/7 availability
Enhanced security measures with EMV card reader and electronic lock
Large 8inch color LCD screen for easy navigation
Reduced maintenance time with a 1,000 note cassette capacity
Cons
Relatively high price point compared to other basic ATM machines on the market.
Limited availability of technical support and maintenance services outside of Genmega's network.
Some users have reported occasional glitches with the card reader functionality.
Specs
Product Dimensions: 22.3 x 15.8 x 56.3 inches
Item Weight: 206 pounds
Manufacturer: Empire ATM Group
ASIN: B015WXRDTK
Item model number: G2500
Customer Reviews: 4.6 out of 5 stars6 ratings4.6 out of 5 stars
Is Discontinued By Manufacturer: No
Date First Available: September 28, 2015
Hantle 1700W
Secure Payment Upgrade for Busy Entrepreneurs and Merchants.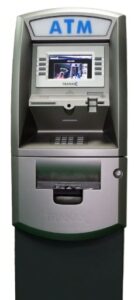 The Hantle 1700W is an exceptional ATM for small businesses, thanks to its user-friendly design and advanced functionality. Boasting a sleek, modern appearance and robust built-in features like an LED front panel display and touchscreen operation, the 1700W caters perfectly to users who value ease of use alongside sophisticated technology.
The Hantle 1700W is a smart ATM solution that combines contemporary aesthetic appeal with powerful internal capabilities—making it well-suited for businesses aiming to improve the customer experience while maximizing profits simultaneously.
With optional upgrades like the EMV card reader kit available at your disposal, there's no reason not to invest in this remarkable product—we can vouch firsthand for its consistent performance even under heavy operational loads!
Hantle 1700W Highlights
The Hantle 1700W EMV Upgrade Kit is perfect for anyone who requires access to the latest secure payment technology. With its easy installation and user-friendly design, this product is a great choice for busy entrepreneurs, organizations, and merchants looking to stay ahead of the ever-evolving payments landscape. Buy yours today!
High-performance: The Hantle 1700W boasts a robust and efficient design to handle all your cash-handling needs.
Large capacity: With a large denomination cassette capacity, you can easily manage high volumes of bills with fewer refills.
Enhanced security: Features an advanced security suite comprising of UL291 Business Hour certification, a three-point locking system, and secure communication protocols ensuring maximum protection against fraud and theft.
User-friendly interface: The user interface is easy to navigate, making it simple for operators to access reports or perform routine maintenance tasks.
Multi-functional capabilities: Besides dispensing bills, this machine also accepts deposits – up to 200 notes at once – coins dispense capability is optional. And there's even an option for receipt printing!
Durable construction: Built with robust material that will withstand harsh environments without compromising performance or aesthetics.
Hantle 1700W Features
EMV Upgrade Kit: The Hantle 1700W is equipped with an EMV upgrade kit, ensuring that your customer's payment information is securely protected. This feature complies with the most current security requirements and ensures a minimal risk of fraudulent transactions.
User-Friendly Interface: The Hantle 1700W boasts a user-friendly interface that makes it easy for customers and merchants to operate. Customers can quickly navigate through the menu options to carry out transactions without any confusion or delays, which results in faster checkout times.
Multiple Payment Options: With the Hantle 1700W, customers have multiple payment options at their disposal. They can choose from cash, credit cards, debit cards, or even mobile payments such as Apple Pay or Google Wallet. This convenience factor contributes significantly to customer satisfaction levels and repeated business.
High-Speed Processing: The Hantle 1700W has high-speed processing capabilities that allow it to handle large transaction volumes quickly. This translates into shorter queues during peak hours and more efficient operations overall.
Large Paper Roll Capacity: Another significant benefit of the Hantle 1700W is its capacity for large paper rolls. Merchants no longer need to frequently replace printer paper rolls as often because they take longer before running out due to this increased capacity. This leads to fewer disruptions during business hours and less downtime spent on administrative tasks like refilling paper supplies.
Pros
Enhanced security with the EMV Upgrade Kit for the Hantle 1700W
Improved customer confidence in payment transactions
Minimized risk of data breaches and fraudulent activities
Compliance with latest industry standards for secure payment processing
Cons
Limited functionality compared to more advanced models
Relatively bulky and heavy, making it less portable than other options
It may require professional installation for the EMV upgrade kit, adding extra cost and time.
Hyosung NH-2700CE
High-quality, long-lasting thermal paper for your POS needs.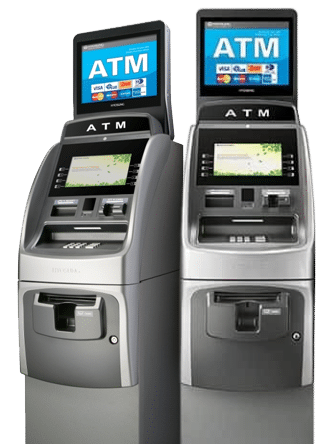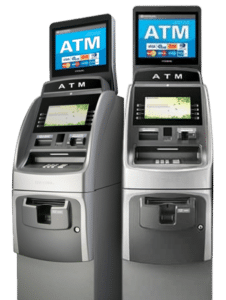 The Hyosung NH-2700CE is an advanced, high-performing ATM that delivers exceptional user experience and functionality. Its sleek design and intuitive interface place it ahead of the competition, making it a top choice for businesses looking to enhance customer convenience. With its secure encrypted communication system, this ATM ensures safe transactions while providing reliable access to cash.
One notable feature of the Hyosung NH-2700CE is its compatibility with Nautilus – Series 3 1/8″ x 815′ Heavy Thermal Paper (2 Rolls). This paper is lint-free, BPA-free, and has an end-of-roll warning stripe for easy management. The heavy thermal paper guarantees clear receipt prints even in high-traffic environments—essential for busy establishments where ATMs are frequently used.
The Hyosung NH-2700CE offers a perfect balance of functionality, security, and aesthetic appeal. It's simple to use and provides numerous benefits, like quick transaction processing times and crisp receipts on heavy-duty thermal paper rolls.
Whether upgrading existing ATMs or installing new ones in your business premises, the NH-2700CE from Nautilus-Hyosung stands out as a smart investment that caters effectively to your customers' needs while enhancing their overall experience at your location. This is another of the top ATMs for small businesses
Hyosung NH-2700CE Highlights
This product is perfect for business owners or operators who need thermal paper to keep their point-of-sale terminals running. Our Hyosung NH-2700CE Series Heavy Thermal Paper provides superior quality, a lint-free roll, and an end-of-roll warning stripe so that you can count on it to meet your needs! Get yours now and experience top performance.
High-quality glossy paper finish
Generous sheet size of 3-1/8″ x 815′
Brightness rating of 100.00 for clear print results
Durable and reliable with an item weight of 8 pounds
Sold in a pack of two for convenience and value
Hyosung NH-2700CE Features
High-Quality Paper: The Hyosung NH-2700CE uses 100% lint-free paper, ensuring that your receipts are always clean and professional-looking. This means no smudging or streaking on your receipts, giving a great impression to your customers.
Long Roll Length: With an impressive roll length of 815′, you won't have to change out the receipt roll as often, saving you time and effort. Plus, this ensures your machine stays operational for longer periods without interruptions.
Wide Roll Width: At 3 1/8″, the width is perfect for printing detailed receipts for all transactions. This size can fit more information, making it easy to read and understand by the cashier and the customer.
End-of-Roll Warning Stripe: No more guessing when you're running low on paper! The end-of-roll warning stripe alerts you when it's time to replace the roll, preventing unnecessary downtime.
BPA-Free Material: Made with bisphenol-A free material (BPA), these rolls are safe for use in retail environments where health regulations are essential. BPA has been linked with exposure to various issues such as diabetes or cancer; hence using BPA-free products maximizes employee safety while working around them.
Genmega Onyx-W
Efficient and Secure Wall Mount ATM for Business Owners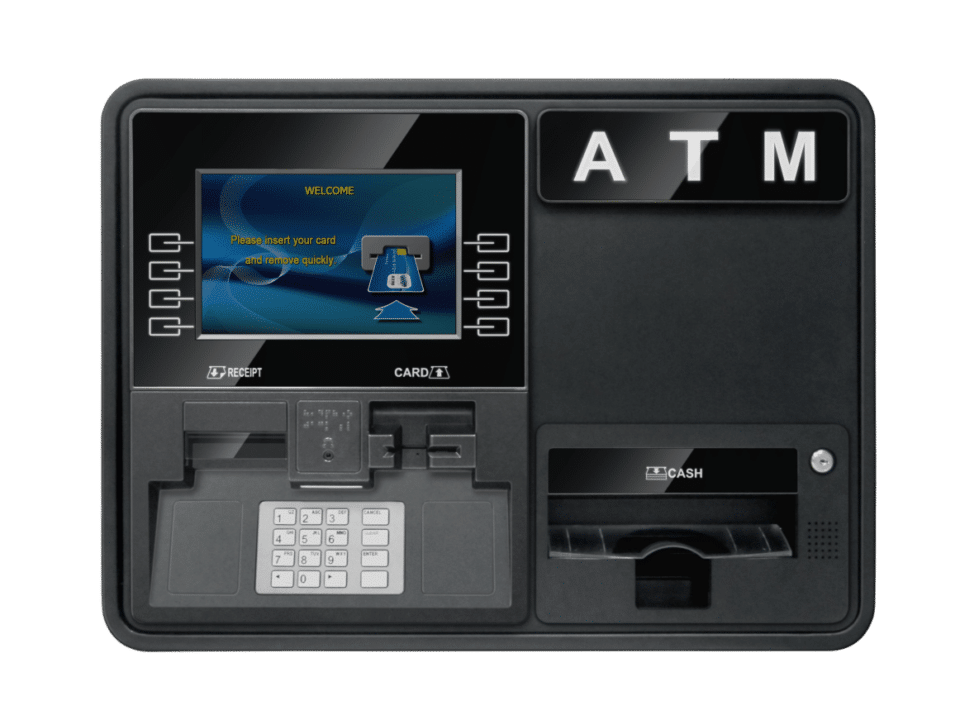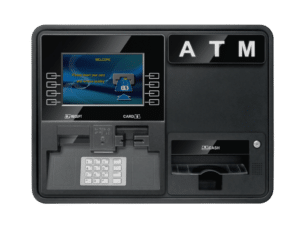 The Genmega Onyx-W wall mount ATM is a cutting-edge machine designed to cater to your business' cash dispensing needs. This sleek device boasts a high-resolution 10.1″ LCD screen and light-up touch function keys, providing an intuitive user interface paired with easy-to-navigate software capabilities. For businesses aiming to save space without sacrificing functionality, the Onyx-W will make for an ideal choice owing to its compact size and convenient wall mounting feature.
This advanced ATM comes equipped with a 1K cash cassette, ensuring that it can store ample money while eliminating constant refills. The EMV card reader adds an extra layer of security for your customers using chip-based cards – not only encouraging trust in your establishment but also significantly reducing fraud risks.
Additionally, this unit includes a built-in camera for added surveillance making users feel more secure while performing transactions.
The Genmega Onyx-W stands out among competing ATMs as it promotes ease of use through clear visual displays and enhanced features such as free shipping upon purchase. With its combination of innovative design choices and top-notch technology, you're guaranteed reliable cash management services at the tip of your fingers!
Genmega Onyx-W Highlights
This product is perfect for the person looking to add convenience and security to their business, with the added bonus of free shipping! The Onyx-W Wall Mount ATM will allow customers to access cash quickly and securely, making it ideal for high-traffic locations like retail stores, restaurants, or gas stations.
High-tech ATM machine designed for optimal performance
Large, easy-to-use touchscreen display for customer convenience
Sleek and modern design fits well in any location
Multiple cash dispensing options available for versatile use
Enhanced security features ensure the protection of customer information and funds
Ability to customize branding and messaging on the machine
Genmega Onyx-W Features
Wall-mounted ATM that saves floor space while providing the same powerful performance as traditional ATMs.
-Benefit: The compact design allows for easy installation in high-traffic areas, making it a convenient and efficient option for both business owners and their customers.
The 10.1″ LCD screen and touch function keys are user-friendly features that enhance the overall experience of using an ATM.
-Benefit: Customers can easily navigate through transactions with ease, leading to higher customer satisfaction rates.
Complete with a high-capacity 1K cassette, this machine is designed to handle large volumes of cash without requiring constant restocking.
-Benefit: Business owners can save money by minimizing employee time spent refilling cash supplies.
The integrated EMV chip card reader comes equipped with a camera for added security measures against fraudulent activity.
– Benefit: Customers can confidently use the ATM knowing there are advanced security measures in place to protect them against potential fraudsters.
Free shipping makes purchasing an Onxy-W even more cost-effective than comparable models on the market today.
– Benefit: Consumers can enjoy considerable savings when they buy from Genmega because they offer premium products at affordable prices.
Pros
Convenient wall mount design saves valuable floor space.
High-resolution LCD screen and touch function keys provide easy usability for customers.
EMV card reader with camera enhances security measures to protect against fraud and theft.
Free shipping means no additional costs to get the Onyx-W up and running at your business.
Cons
Wall mounting may not be ideal for all locations
Limited cassette capacity of 1,000 bills
Not suitable for outdoor use without additional weatherproofing measures.
EMV card reader with a camera could increase cost and maintenance requirements
May not fit all wall spaces due to its size and weight.
ATM Specifications
Is Discontinued By Manufacturer: No
Date First Available: October 3, 2018
Manufacturer: GenMega
ASIN: B07HZXB8DP
Best Sellers Rank: See Top 100 in Office Products
Benefits Of Owning An ATM In Your Small Business
Placing an ATM in your small business can increase monthly revenue through surcharge fees, improve customer experience, reduce credit card fees, offer a competitive advantage over businesses without ATMs, and potentially lead to repeat business and loyalty.
Increased Revenue Through Surcharge Fees
Owning an ATM is a great way for small business owners to increase their revenue. Surcharge fees that customers pay when they withdraw cash from your ATM can add up quickly and become a significant source of passive income.
On average, these fees amount to more than $3 per transaction, and you get 100% of the surcharge fee income derived from having an ATM on-premises (after ISO fees). For instance, independent operators who own and operate about five to ten ATMs make around $1,500-$2,000 in monthly profit.
Plus, owning an ATM machine gives you control over its placement within your business premises.
Improved Customer Experience
Placing an ATM in your store is an easy way to improve your customer experience. With an accessible cash machine, customers do not have to go through the hassle of finding a bank or an ATM outside your establishment.
It provides convenience and speed while offering various payment options beyond credit cards or checks.
Furthermore, owning an ATM can also benefit small businesses by reducing credit card processing fees. The additional revenue stream from ATM surcharges may help offset some costs associated with maintaining and operating the machine.
Reduced Credit Card Fees
One of the biggest benefits of owning an ATM in your small business is reduced credit card fees. When customers use cash to withdraw money from your ATM, they are less likely to use their credit cards for purchases.
This leads to reduced credit card processing fees, which can add up quickly for small businesses that rely heavily on electronic payments.
Competitive Advantage Over Businesses Without ATMs
Having an ATM in your small business can provide you with a competitive advantage over other businesses without ATMs. By offering cash withdrawal options to customers, they're more likely to choose your establishment over competitors who don't have an ATM available.
This convenience factor can also lead to improved customer satisfaction and loyalty, as customers tend to appreciate the ease of access to their money. Additionally, owning an ATM machine can generate substantial revenue through surcharge fees that are added on top of each transaction.
Potential For Repeat Business And Loyalty
One of the most significant benefits of owning an ATM in your small business is the potential for repeat business and customer loyalty. By providing customers with quick and convenient access to cash, you can encourage them to return to your establishment time and time again.
Additionally, you can offer promotions or discounts for those who use your ATM consistently.
Moreover, having an ATM within a small business provides an added level of convenience that customers will appreciate. Instead of searching for other ATMs or struggling without access to cash at all, they can easily withdraw cash during their visit while also enjoying everything else your store has to offer.
Maintenance And Technical Support
Regular maintenance is crucial to keep your ATM in good condition and ensure high-quality performance. Accessibility to technical support is also important in case any issues arise, so it's advisable to choose an ATM provider that offers reliable technical assistance.
Importance Of Regular Maintenance
Regular maintenance is crucial for ensuring high ATM availability and optimized operations. Without proper upkeep, ATMs can experience downtime, which translates to lost revenue opportunities for small businesses.
Maintenance includes preventative measures such as servicing and repairs, transportation of cash, and lifespan extension through optimizing operational performance.
One way small business owners can ensure regular maintenance on their machines is by outsourcing these tasks to award-winning maintenance providers. These services specialize in optimizing the performance of an ATM fleet while extending its lifespan through routine preventative maintenance.
Accessibility Of Technical Support
It's important to consider the accessibility of technical support when choosing an ATM for your small business. Regular maintenance and technical assistance are crucial for ensuring your ATM operates smoothly and efficiently.
Additionally, it's worth considering the guidelines for accessibility set forth by the ADA, as this ensures that individuals with disabilities can also utilize your ATM without any hindrance.
Outsourcing maintenance and repairs may also be an option if you don't have the resources to address these concerns in-house.
Options For Outsourcing Maintenance And Repairs
ATM business owners and entrepreneurs are always looking for ways to streamline their organization and scale their business footprint. One effective solution is outsourcing ATM maintenance and repairs to an ATM company. This offers several benefits, such as:
Reduced operating costs: Outsourcing saves time and money on training, staffing, and equipment purchases, freeing up your staff to focus on core business activities.
Improved cash management efficiency: Cash management outsourcing helps small businesses avoid the risk of internal theft or fraud by providing secure transportation services, cash replenishment, and reconciliation.
Compliance with regulations: Service providers offer compliance outsourcing that helps small businesses maintain regulatory standards required for ATM operation, reducing the risk of penalties or lawsuits.
Liability management: Outsourcing companies assume liability for their work, shifting the responsibility from the business to the service provider.
Accessible technical support: Outsourced maintenance provides easy access to technical support services that ensure uptime and reduce downtime while minimizing disruptions to customer service.
Equipment maintenance outsourcing: Service providers offer equipment maintenance outsourcing that covers all aspects of upkeep, including preventive maintenance, repair work-speed restoration/replacement of damaged parts or consumables (e.g., printer cartridges), system upgrades/upgrades).
Reduced stress on back-office resources: Outsourcing lets you shift the burden of managing ATMs from internal staff and frees up time for other critical tasks.
Business process outsourcing: By outsourcing some or all ATM-related processes, such as transaction processing or reporting duties, small businesses can benefit from cost savings while gaining operational efficiencies (e.g., faster turnaround times).
Overall, outsourcing offers a valuable alternative for small businesses looking to minimize costs while ensuring reliable ATM services compliant with regulatory requirements and industry best practices.
Buy An ATM Today From ACME ATM
Choosing the right ATM for your business doesn't need to be a headache. Several high-quality ATMs available on the market today are suitable for just about any small business.
In addition to buying ATMs, when you partner with ACME ATM, you can get an ATM for free. We'll help you select the best ATM for your location, install it, and provide all of the required monthly maintenance and services. Then, at the end of the month, we'll send you a check for 50% of the fees collected.
Contact us today to speak to one of our ATM sales team members about the ATM options that might be best for you.